GOOD BONES ORTHOPAEDICS LTD
Julian Stoddart
Total Knee Replacement
What Is A Total Knee Replacement?
A total knee replacement (TKR) is a resurfacing operation of the knee. The damaged joint lining is removed and replaced with a metal or plastic bearing surface. The deep surface of the knee cap is also often replaced. The soft tissues around the knee are not replaced.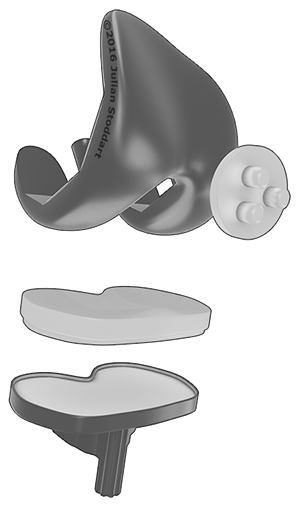 © 2016 Good Bones Orthopaedics Ltd
The four parts that make up a total knee replacement
Who Benefits From A Total Knee Replacement?
TKR benefits patients with arthritis of the knee joint who have failed non surgical treatment. The most common types of knee arthritis are osteoarthritis and post traumatic arthritis. The main indication for a knee replacement is pain.
There are no absolute age restrictions for knee replacement however it is usually not recommended for those under 60 unless symptoms are extreme. The reason for delaying knee replacement surgery to older age is that the knee replacement has a limited life span.
Patients must be fit enough to undergo a major operation while active infection precludes a knee replacement.
A - A normal knee with a smooth joint surface
B - An arthritic knee with wear of the joint lining
(note that the patella has been rotated out of the way in both views)
What Is Involved For The Patient?
Usually four to five nights in hospital


A spinal or general anaesthetic (either way you wont hear or see anything)


The operation takes 70 - 100 minutes


One long incision down the middle of the knee
Fully weight bearing after surgery


Crutches for six weeks


No driving for four weeks
The total knee replacement in position
What Is The Recovery Period?
The first three months are hard work, with physiotherapy input to regain knee motion and strength. By three months two thirds of working patients have returned to some level of work. Typically patients are much better by 4 months after surgery. Full recovery takes 12 months.
What Is The Success Rate Of A Total Knee Replacement?
Approximately 8 out of 10 patients who have a knee replacement are satisfied.
80% of patients experience significant pain relief


50% can walk more than one block


Most patients can bend the new knee to at least 90 degrees


Patients can return to low impact sports like bowls and golf


The operation is excellent for return to swimming and cycling


It is less effective for crouching, kneeling and thus activities like gardening


Over 90% of new knees are still working 15 years after the surgery
What Are The Risks Of A Total Knee Replacement?
All operations carry some risk. Knee replacement is a safe operation but occasionally complications occur.
Risks common to all operations include:
Infection


Blood clots in the legs


Bleeding


Damage to surrounding nerves and blood vessels


Risks particular to total knee replacement include:
Knee stiffness


Knee instability


The knee replacement loosening


Pain syndromes
Why Have Julian Perform Your Total Knee Replacement?
Research shows that satisfaction after knee replacement is most closely linked to patient expectation. Julian likes to ensure his patients clearly understand what to expect from their new knee. He provides a lot of resource material to his patients before their knee replacement. Setting realistic expectations of what the surgery can achieve results in a better outcome for his patients.
Julian performs computer navigated knee replacements. This technology allows very accurate alignment of the new joint. The hope is that this will result in better outcomes and longevity for the replaced knee. Julian has been navigating knees for over seven years and has considerable experience with this technique. He is a regular attender at navigation user group meetings nationally. He is delighted to have introduced this technique to Taranaki for his patients benefit.
Julian keeps a detailed database of his patients outcomes so a baseline is established for assessing the long term performance of the replaced joint.
Currently Julian is involved in helping set up an international project on new knee wound dressings. These dressings appear to reduce post operative inflammation and bruising.
I Think I May Benefit From A Total Knee Replacement
If you think you may need a total knee replacement please arrange a consultation with Julian Stoddart. You will receive a comprehensive assessment of your knee to determine if this operation is right for you.
Back to Previous Page