GOOD BONES ORTHOPAEDICS LTD
Julian Stoddart
Anterior Cruciate Reconstruction
What Is An Anterior Cruciate Ligament (ACL) Reconstruction?
The anterior cruciate ligament (ACL) is a major ligament in the centre of the knee. When it breaks it can result in an unstable knee. Unfortunately the ligament cannot be repaired but needs to be replaced (reconstructed) with a graft (tissue taken from your body, commonly hamstring tendons). The graft is secured into tunnels made in the thigh and shin bone. It replaces the ruptured ligament. The operation is done as a keyhole procedure with one small incision. Torn cartilage discs (menisci) are commonly found at the time of the reconstruction and are dealt with accordingly.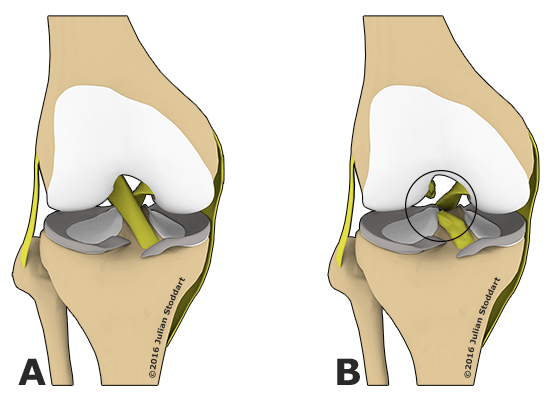 © 2016 Good Bones Orthopaedics Ltd
A - An intact ACL seen in yellow in the middle of the knee
B - A ruptured ACL - circled
Who Benefits From An ACL Reconstruction?
This operation benefits patients with a ruptured ACL who continue to experience knee instability despite completing a rehabilitation program. The knee should have a good range of motion prior to surgery. Patients need to be able to comply with an intensive rehabilitation program after surgery.
Knee arthroscopy is most commonly performed on patients between 16 and 45 years of age. The operation is being more commonly performed on older patients (over 45 years) who remain very active. It can be performed on younger patients (<16 years) if necessary.
What Is Involved For The Patient?
Usually one night in hospital


A general anaesthetic (you are put right off to sleep)


The operation takes 45 - 90 minutes


Normally two small 1cm incisions and one longer 4cm incision


Normally fully weight bearing after surgery


Some patients need a knee brace for 6 weeks


6 months of rehabilitation with physiotherapy guidance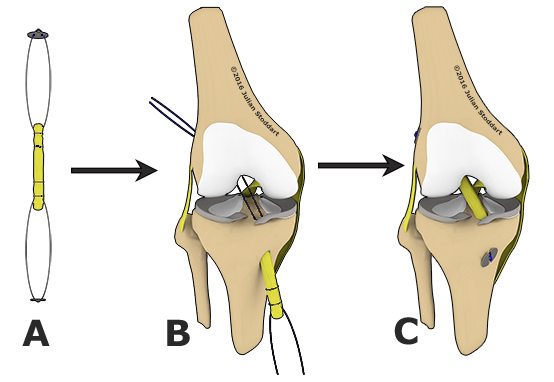 An ACL reconstruction involves -
A - Taking a graft (usually from the hamstrings) and preparing it with sutures
B - Drilling a socket in the thigh bone and tunnel in the shin bone then pulling the graft in to place
C - Holding the graft in place with small metal buttons
What Is The Recovery Period?
Recovery takes 6 - 9 months. The graft needs to gain strength. Patients are typically walking comfortably by 3 - 4 weeks. Uneven ground must be avoided for 3 - 4 months (often precluding full work). Contact sports are not possible until at least 6 months after surgery. Swimming and cycling are started early in the post operative period.
What Is The Success Rate Of An ACL Reconstruction?
An ACL reconstruction provides a stable functional knee in about 8 out of 10 patients. If successful, it allows return to sporting activities although it can take up to two years to regain pre-injury form.
It is hoped that stabilising the knee will prevent further damage. This may then prevent or delay wear changes later in life.
What Are The Risks Of An ACL Reconstruction?
All operations carry some risk. ACL reconstruction has a low complication rate.
Risks common to all operations include:
Infection


Blood clots in the legs
Risks particular to ACL Reconstruction include:
Graft rupture


Failure to restore knee stability


Anterior knee pain (discomfort kneeling)


Numbness at the front of the knee
Why Have Julian Perform Your ACL Reconstruction?
ACL reconstruction is one of Julian's most common surgical procedures. He is fellowship trained in this operation and has over 8 years experience performing it. Julian is familiar with a number of fixation techniques. As a result of his experience he has been invited to help assist other Australasian surgeons learning one of these methods .
Julian works closely with physiotherapists to provide a comprehensive rehabilitation program. You will be provided with a detailed outline of the recovery process. Julian keeps a database of his ACL reconstructions to ensure results are as optimal as possible. He regularly attends meetings on the latest techniques incorporating them into his practice as appropriate.
Julian also performs revision ACL reconstruction for patients who have ruptured their graft. While this is technically demanding surgery, with appropriate planning and surgery, a successful outcome is frequently obtained.
I Think I May Benefit From An ACL Reconstruction
If you think you may need an ACL reconstruction (or revision ACL reconstruction) please arrange a consultation with Julian Stoddart. You will receive a comprehensive assessment of your knee to determine if this operation is right for you.
Back to Previous Page